Brighton RV Towing Company Delivers Temporary House on Wheels
Recreational vehicles are a fun investment that can help families bond as they take on the open roads. RVs can also double as a second home when you need temporary housing. RM Heavy Towing recently encountered such a situation that required RV towing from Brighton, Colorado to Black Hawk, Colorado. Here's how Brighton's most trusted RV towing company got the job done:
Our RV towing dispatch unit received a call for RV towing services. The RV had recently been purchased out of Brighton, although its new owners call Black Hawk, Colorado home. This particular RV was to serve as a temporary second house while its new owners awaited completion of the construction of their home.
Although relatively operable, there was a knocking sound in the engine that worried the new owners. As a result, they searched for "RV towing near me" and found RM Heavy Towing.
The older model RV was easy enough to tow. We utilized our 35-ton heavy duty wrecker to hook it up and haul it. However, several challenges presented themselves along the way. Fortunately, our RV towing team is highly trained to face any obstacles you could possibly encounter.
At first, the trip was smooth, albeit slow going. Our RV towing company driver started out on Interstate 76 before turning off onto a lesser traveled path. To reach the RV owner's location in Black Hawk, careful maneuvering along an extremely windy, one lane road was required. If that doesn't sound stressful enough, Mother Nature began to unleash copious amounts of precipitation.
What normally is about an hour journey for the most experienced RV towing company took closer to two hours due to the road and inclement weather. The last 45 minutes of the drive were fraught with alternating heavy rain, sleet, snow, and hail. At times, our RV towing technician had to stop because of the low visibility along the road.
The treacherous trip took longer than planned, but nonetheless, our driver was able to deliver the RV safely to its new owners. The family was happy to have their temporary home on wheels in sight!
No matter the weather, RM Heavy Towing gets the job done safely. It's no surprise that we are your reliable, local RV towing company. Another job well done by our Brighton RV towing company division!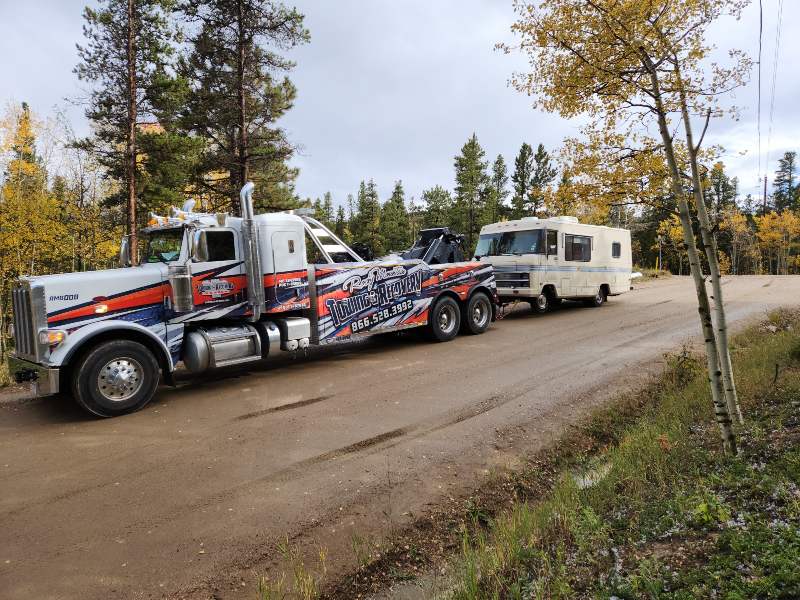 Brighton RV Towing Company Delivers Temporary House on Wheels
Recreational vehicles are a great way to bond with your family as you see new sights. They can also serve as secondary housing when you need. While great for both uses, RV towing services sometimes present extremely difficult challenges for our technicians. 
RM Heavy Towing's RV towing company division recently experience that fact firsthand while providing RV towing services from Brighton, Colorado to Black Hawk, Colorado. We'll describe the steps we took to ensure safe transport of the RV.
This RV towing call came in from a family located in Black Hawk, CO. They had purchased the RV out of Brighton, Colorado and intended to use it as temporary housing while they waited for their forever home to be built.
However, due to a knocking sound in the engine, the new owners did not feel comfortable making the journey on their own. A quick search for RV towing near me led them to contact the best RV towing company in the business —  RM Heavy Towing.  We were happy to lend a hand.
Despite being an older model RV, hookup and the initial leg of the trip were fairly simple. With the capabilities of our 35-ton wrecker, everyone assumed that this would be a straightforward RV towing experience. Nothing could have been further from the truth!
RV towing is never a job to rush, but the roadway proved to be extremely windy and only one lane. To make matters more complicated for the RV towing company, the clouds unleashed a plethora of alternating rain, sleet, snow, and hail. Due to the low (nearly impossible) visibility, our RV towing technician had to make several stops for his safety and that of the RV.
By the time the RV towing company arrived, an additional hour had been added to the normally 60 minute trip between Brighton and Black Hawk, Colorado. Even still, the new owners of the RV were ecstatic to see that it had made it safely and their choice in RV towing company had paid off. After unhooking the RV from the 35-ton heavy wrecker, our Brighton RV towing technician made his way back to headquarters to regroup with the rest of the RV towing company.